Standing up and presenting in front of an audience can be a terrifying experience for most people, even experienced presenters. Yes! The number one phobia that most people share is presenting; speaking in front of a group: colleagues, strangers, it doesn't seem to matter – it's scary.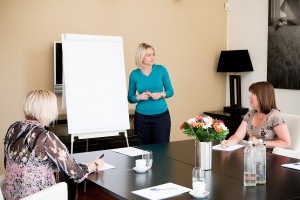 If you have to give presentations and you find that your nerves prevent you from peak performance, then Presentation Skills Training is for you.
This programme aims to elevate your performance and confidence to a new level of excellence.
Objectives
The programme will teach you how to:
Manage your nerves and activate the right mental attitude in an instant
Demonstrate confidence and charisma by just being you
Use performance techniques to give outstanding presentations that don't put the audience to sleep
Deliver presentations that engage, energize and dazzle the audience
Communicate your message with razor sharp precision
Create maximum impact through voice, body language and influential verbal skills
The core components of the programme are:
1. Know thyself
a. Knowing your presentation strengths and weaknesses
b. How to unblock character traits that interfere with successful delivery. (e.g. fear of the spotlight, shyness, fear of success!)
2. Communication
a. Getting clear on the purpose of your presentation and fine-tuning the message
b. Understanding different language styles and how to incorporate these into your presentation
c. Eliminating 'Death by Power Point', through understanding why, when and how to use power point effectively
d. Maintaining audience attention through strategic use of body language, voice modulation and eye contact
e. Understanding how to use dramatic effect, anecdotes and rhetorical questions to create suspense and excitement
f. Understanding how to make deliberate use of the above techniques to highlight key messages
g. Expand your repertoire of creative opening and closing techniques
3. Your Physical Self
a. Voice – warming-up techniques, learning how to project your voice properly without causing damage
b. Breathing – how to control your breath to calm nerves and prevent breathlessness during the presentation
c. Posture – understanding how the right posture makes a difference to confidence levels and charisma
4. Self management
a. Managing nerves and calming a quivering voice
b. Conveying an aura of confidence even though your legs are shaking
c. Radiating presence and charisma every time to stand up to present
d. Connecting with the audience without feeling besieged
To maximise the effect of the course you are required to work on an actual presentation that you have to deliver, or have delivered recently. A 'before and after' recording of you presentation will provide proof of progress.
Call Jacinta now to discuss your specific needs & requirements.