We are more effective, more successful and MUCH happier when we are doing things we are passionate about. Discover who you really are, what you always were, how to put the things you love into your life and work.
Do you spring out of bed, eager to face the day? Or is your first waking thought, "Urgh?"
Would you describe your life as vibrant and exciting? Or has it become rather bland and ho-hum?
Is your work your passion? Or is your passion something you have lost sight of?
Are you headed in the right direction full of enthusiasm? Or do you just plod along, knowing there has to be more than this, but you don't know what?
Do you know what you REALLY want and how to get there?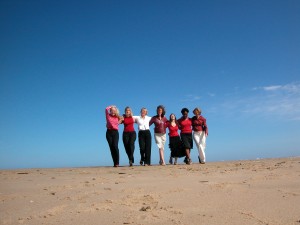 Everyone will agree that we are more effective, more successful and MUCH happier when we are doing things we are passionate about. Unfortunately, too many people lose touch with their passions as they get caught up in the climb to the top, or trying to make ends meet or doing what others expect of them.
If you feel you are living at half pace, doing a job that's not you, living a life that's eating away at your spirit, then Find Your Passion is the workshop for you.
Workshop
This workshop aims to get you back in touch with your Core Passions, first by exploring what passion is; and then by taking you on a journey to your inner self. You will walk out of the workshop in possession of an Action Plan for immediate implementation.
You will:
Learn why we lose our passions and how to prevent this happening again.
Discover your passion through a variety of interactive exercises; boisterous brainstorming; quiet self-reflection; and analytical treasure hunting.
Make a plan of action to incorporate your passion into your daily life
And for those who wish to, you will learn:
How to turn your passion into an income generator or how to make a career change.
The workshop will be highly interactive, fun and stimulating. Expect to feel passionate! WORKSHOP DATES
The Fee
The fee for the workshop is €240 ex BTW and includes:
Workshop attendance
Course manual
One individual coaching session with Jacinta one month after workshop
Lunch and refreshments throughout the day
50% discount on the follow up workshop 'Realize Your Passion'
10% discount for any additional coaching packages you book with Jacinta
The Location
The workshop takes place in both Amsterdam and Den Haag.
The venues are close to public transport and parking.
Find Your Passion Coaching
For some people an individual program is preferred which is why the Find Your Passion coaching package has been created. The aim of the coaching program is similar to the workshop but will be more comprehensive and, of course, focused only on YOU… read more