Workshops are a fun way to learn about yourself through interaction with others. You get feedback that is refreshing and often different to what you have heard before, you can test your ideas in a safe, nurturing environment and you get to see yourself from a different perspective.

Jacinta runs a number of workshops and is recognized as an entertaining and inspirational trainer.
She runs the following workshops on a regular basis:
Find Your Passion Workshop read more

Presentation Skills Workshop read more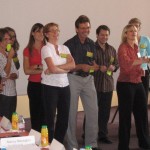 Workshops tend to be for one day depending on the course content. Participants receive an individual coaching session after the workshop which helps to consolidate the workshop material and encourages participants to implement the workshop outcomes.
For more information and course details please click on the links above or email Jacinta on jacinta {at} jacintanoonan.com or
phone +31 (0)6 51276691